We heard from quite a few people that they cannot easily obtain already de-hulled soybean halves.  We soaked organic whole beans for 24 hrs and then put them through our home made dehuller.
We covered a 1 gall tin can with a layer of cement to get a rough surface and made a channel with some aluminum for the beans to get squeezed on the way down when the wheel turns (counterclockwise). The distance at the top is about 2 beans, at the bottom half a bean.
This setup worked quite well.  (the motor is 1/10th hp, 100 rpm used, $60)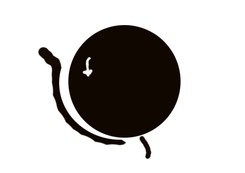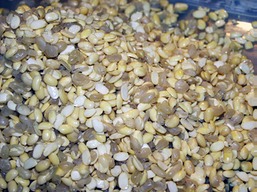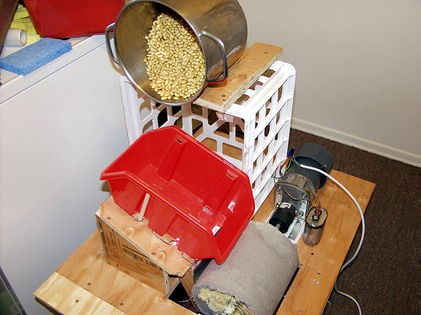 Getting rid of the hulls is a challenge. We tried several experimental set ups but are trying to keep it simple.  The wire basket works the best. Dipping it into the water several times and shaking it brings the hulls to the top. It was possible to shake the hulls to the left side and then dip the basket under the water a little bit and jerk it to the right. That removed most of them when done a few times.  The remaining ones can be caught with a strainer when the beans are in the cooking pot . The hulls come up to the surface just before the water begins to boil..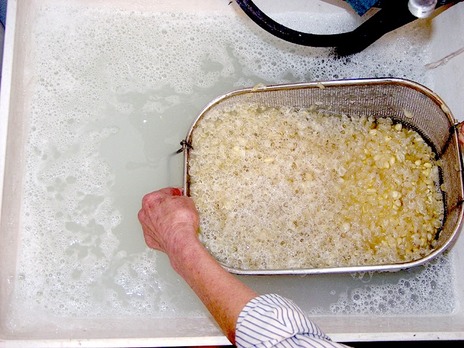 Recently I watched footage of gold prospectors.  They run their  mixture of earth, rocks and gold through a channel with water. The channel has a grate on the bottom and the heavier gold sinks. Would the skins float off and the beans sink? I recirculated the water from the bucket; the channel flowed into a strainer.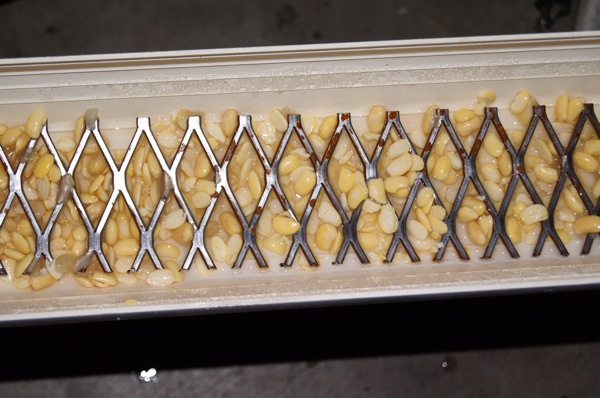 This could be researched some more. My punp did not like my restricting the flow and after a few tries with running the channel at different angles, I ended up with a lot of foam. Let us know if someone pursues this approach.
My best results so far are to use a pot with holes in the bottom or a wire mesh basket and repeatedly lower it into a larger container with water; down fairly fast, up slow. This achieves two things: it gets rid of the real small particles and it brings the skins to the top. Then I carefully lower the container into the larger one and syphon off the skins from the top with a hose that is large enough to allow the skins to go through. At the same time I return the syphoned water to the larger container through a small recirculation pump that has a strainer on the intake.